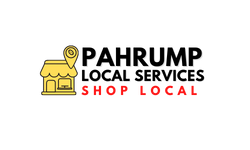 About Pahrump Local Services
Introducing Pahrump Local Services Shop Local, your community resource to local restaurants, recommended service professionals, special deals, community events and more.
During the pandemic I saw report after report about the struggles local businesses endured. Many survived the economic turmoil but sadly, many did not. On a more positive note, new businesses opened as well.
As our community emerges from pandemic isolation we wanted to put together a free community directory of local businesses in the Pahrump Valley. The goal is to make it easier for all involved to find each other. Whether it's a business looking for new customers or someone looking for the newest restaurant, you'll find it here on Pahrump Local Services.
Often some of the best services and recommended professionals are discussed and referred to in closed social media groups. For example, that highly recommended remodeling contractor who is well known on one side of town is unknown across town. Or the physical therapist that finally helped you get rid of the chronic pain you've been suffering from.
Our goal is to promote the best-of-the-best, to everyone in town and allow businesses to reach out to all residents as well. This way, everyone can find and use that diamond in the rough!
So if you know of a phenomenal restaurant, an outstanding contractor, the friendliest bank, favorite dentist, or any other outstanding recommendation that you know of, please let them know about this site.
Anyone can add a free listing for any Pahrump Valley business or recommended service professional. If you are a business owner, feel free to add your business listing as well.
Our community resource website  is an online list or catalog of websites. That is, it is a directory on the World Wide Web of (all or part of) the World Wide Web. Historically, directories typically listed entries on people or businesses, and their contact information; such directories are still in use today. A web directory or what we like to call a community resource website, includes entries about websites, including links to those websites, organized into categories and subcategories. Besides a link, each entry may include the title of the website, and a description of its contents. In most web directories, the entries are about whole websites, rather than individual pages within them (called "deep links"). Websites are often limited to inclusion in only a few categories.
There are two ways to find information on the Web: by searching or browsing. Web directories provide links in a structured list to make browsing easier. Many web directories combine searching and browsing by providing a search engine to search the directory. Unlike search engines, which base results on a database of entries gathered automatically by web crawler, most web directories are built manually by human editors. Many web directories allow site owners to submit their site for inclusion, and have editors review submissions for fitness.

Web directories may be general in scope, or limited to particular subjects or fields. Entries may be listed for free, or by paid submission (meaning the site owner must pay to have his or her website listed).